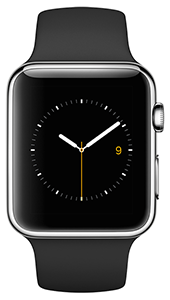 Apple Watch repairs
NB. The method of repair for a Watch with a broken display, is to replace the entire Watch at the Whole Unit Replacement price.


Repairs under warranty
If your Apple Watch is covered by Apple's Limited Warranty, AppleCare/AppleCare+ or under Australian Consumer Law we are able to arrange repair for you. To determine if your Watch is covered by warranty, enter the serial number into the Online Service Assistant section on the Apple Support site.
Note: We may require a copy of your proof of purchase document (ie. tax invoice) to confirm your warranty status.
The service option for Watch is a whole unit replacement. The process is as follows:-
If possible back up your Watch to your paired iPhone, charge your iPhone and Watch.
Bring your Apple Watch, iPhone, power adapter and charging cable into our service centre.
We will inspect your Watch and run through software diagnostics to attempt to resolve the issue, and check for physical damage.
Once we confirm the problem we will get you to remove the band and pack your Watch into Apple's provided packing carton.
We will have you sign a Repair Authorisation.
We will request a replacement Watch from Apple.
When the replacement Watch arrives we will call to notify you it is ready for collection.
When you collect the replacement Watch, you will inspect it and re-pair it to your iPhone
You can then sign the Repair Confirmation, and you are on your way.
Note: Apple covers defects if they arise from authorised service for 90 days or the remaining term of your Apple Watch warranty, whichever is longer.
What if my Watch is not covered by warranty?
Your Watch might be eligible for out-of-warranty service. Some damage isn't eligible at all, for example, if your device has been broken into multiple pieces. See Apple's Repair Terms and Conditions for complete details.
Note: Before replacing your Watch under the battery exchange program we will need to run a battery playback test to confirm that the battery has expired.
Can just the display be repaired?
Apple's method of repair for a Watch with a cracked display is to replace the entire Watch, so the whole unit pricing will apply unless you have AppleCare+.
What do I need to do before coming in for service?
There are a few things you can do before dropping your device into our store. See this article on Apple's website for more information on preparing your device. You may also need to turn off activation lock. This article explains it.
Can I troubleshoot my Watch?
Yes. Please visit Apple's Watch support site for helpful troubleshooting of your Apple Watch. It will explain how best to determine if your Watch has a software or hardware issue. If you have reviewed the articles on the website, and you're still not sure if your Watch requires service, you can bring it into our service centre for assistance.
Note: If we restore and repair your Watch and that solves the problem, a $50 diagnostic fee will be charged. This fee will be not be charged if your Watch has a hardware issue and you choose to proceed with a repair/replacement.
Will the data on my Watch be preserved?
Your Apple Watch is made to pair with your iPhone, so even though the data will be wiped, it will restore from your iPhone when you repair it.
How long will my Watch service take?
Whole unit replacement service may take approximately 1 week from the time you leave your Watch with us.