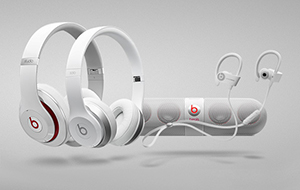 Beats by Dre repairs
If your Beats by Dre audio gear is covered by Apple's Limited Warranty or under Australian Consumer Law we are able to arrange repair for you.
Note: We may need a copy of your proof of purchase document (ie. tax invoice) to confirm your warranty status.
For component repairs the following process applies:-
You need to drop your headphones, earphones or speakers into our service centre. We will book it in for our Authorised technicians to check for damage (ie. damage resulting from accident, liquid, disassembly, unauthorised service and unauthorised modifications) and then confirm warranty coverage.
We will then attempt to reproduce the fault and confirm that it needs repair. This can take some time (ie. a battery issue can take over 24 hours to diagnose as we will have to run a playback test).
When diagnostics confirm a component replacement is required (ie. lead, power adapter) we will order the part from Apple (this can take a day or two) and replace the failed component, then re-run diagnostics to confirm the repair process is succesful.
We will then call you to advise it is ready for collection.
If we are unable to repair your Beats using components, then we will need to request a whole unit replacement from Apple.
The whole unit replacement process is as follows:-
Your Beats will be shipped to Sydney for repair. The turnaround time is usually 4-5 business days.
If the repair is not covered by warranty, you will be required to pay the Out of Warranty price for the repair.
We will then call you when the replacement arrives to advise it is ready for collection.
Note: Your replacement Beats will be covered by your existing warranty or a 90 day service warranty, whichever is the greater.
What if my Beats gear is not covered by warranty?
As an authorised Apple Service Provider, iLove Computers can also arrange service for your Beats earphones, headphones or speakers. As per above we can repair certain components in our service centre. Otherwise we can arrange replacement of the entire unit through Apple's Out of Warranty service program. The whole unit replacement pricing for your Beats gear is shown in the right hand column.
Can I troubleshoot my Beats?
Yes. Please visit the Beats support website for helpful troubleshooting of your gear. It will explain how best to determine if your gear has a hardware issue. If you have reviewed the articles on the website, and you're still not sure if your Beats require service, you can bring the unit into our service centre for assistance.
How long will my Beats service take?
Most repairs/replacements can be performed within 3-4 days.