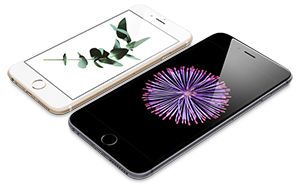 iPhone repairs
NB. As at the 1st January our iPhone battery replacement cost has dropped from $140 to $59.99 on iPhone 6 and iPhone SE onward. See here for more information from Apple.
As an Apple Authorised Service Provider we are able to arrange repair of your iPhone. To determine if your iPhone is covered by warranty, enter the serial number into the Online Service Assistant section on the Apple Support site.
Note: We may need a copy of your proof of purchase document (ie. tax invoice, phone contract) to confirm your warranty status.
There are two primary types of repairs performed. Component repairs include replacing a battery, iSight camera, vibe motor and a number of other individual components which can be preformed by our technicians within a few hours. A display or whole unit replacement must be sent to Sydney for replacement by Apple's technicians to repair and will take 4-5 business days turnaround time.
NB. If your iPhone is under warranty and not physically damaged we may be able to supply a loaner iPhone free of charge. If your iPhone is not covered under warranty we may be able to hire you a iPhone for a nominal fee.
For component repairs the following process applies:-
You need to drop your iPhone into our service centre. We will book it in for our Authorised iOS technician to check it for damage (ie. damage resulting from accident, liquid damage, disassembly, unauthorised service and unauthorised modifications) and confirm warranty coverage.
We will then attempt to reproduce the fault and confirm that it needs replacing. This can take some time (ie. a battery issue can take over 24 hours to diagnose as we will have to run a playback test).
When diagnostics confirm a component replacement is required (ie. battery, camera, vibe motor, etc.) we will replace the failed component and re-run diagnostics to confirm the repair process is succesful.
We will then call you to advise it is ready for collection.
If we are unable to repair your iPhone using components in stock, then we will need to request a whole unit replacement from Apple.
The display and whole unit replacement process is as follows:-
When a component repair is not possible (ie. display, main logic board, etc.) we will send your iPhone to Apple for repair.
If the repair is not covered by warranty, Apple will provide us with a quote for repair.
We will call you and confirm the quote.
We will then call you when the replacement arrives to advise it is ready for collection. This takes 4-5 business days.
Note: Your replacement iPhone will be covered by your existing warranty or a 90 day warranty, whichever is the greater. It may also be covered by Australian Consumer Law for up to 2 years.
What if my iPhone is not covered by warranty?
As an authorised Apple Service Provider, iLove Computers can also arrange service for your iPhone. As per above we can repair certain components in our service centre. Otherwise we can arrange replacement of the entire iPhone through Apple's Out of Warranty service program. The pricing for repair of your iPhone is shown in the right hand column.
Note: Before replacing your iPhone under the battery exchange program we will need to run a battery playback test to confirm that the battery has expired.
Can I troubleshoot my iPhone?
Yes. Please visit Apple's iPhone support site for helpful troubleshooting of your iPhone. It will explain how best to determine if your iPhone has a software or hardware issue. If you have reviewed the articles on the website, and you're still not sure if your iPhone requires service, you can bring it into our service centre for assistance.
Note: If we restore your iPhone to iTunes on one of our Macs and that solves the problem, a $30 diagnostic fee will be charged. This fee will be not be charged if your phone has a hardware issue and you choose to proceed with a repair/replacement.
Will the data on my iPhone be preserved?
With a component replacement your data should not be affected, however we do recommend that you ensure your iPhone is backed up before the repair.
With whole unit replacement, your data will not be preserved. You will receive a replacement iPhone that will not contain any of your data, songs, or after-market personalisations. Before you submit your iPhone for service, it is your responsibility to keep a separate backup copy of the data stored on your iPhone and reinstall that data. You can backup your iPhone by connecting it to iTunes on your computer and ensuring it syncs.
Note: Following service your replacement iPhone may have a newer version of the iOS. As a result you may need to update your App Store applications or iTunes version to ensure compatibility with the new iOS. If you experience a problem with an application purchased from the App Store, check iTunes to see if an update is available or contact the application vendor directly.
How long will my iPhone service take?
We can usually perform component replacement repairs within 24 hours. Whole unit replacement service will take approximately 4-5 days from the time you leave your iPhone with us.
NB. If you have AppleCare, or your repair is covered under AppleCare warranty, we may be able to provide you with a loaner iPhone.